For my first participation for Tuesdays with Dorie, a rewind it's a good entrance cause I made lots of Dorie Greenspan recipes, I often read and followed the blogs of the group, but I never participated!!! Why????....
Anyway now it's repaired and I'm very happy to start with this flavourful bread.
Easy to make and easy to eat!!!!! It can be described as a simply and tasty bread. Toasted or not, with butter, marmalade or for a sandwich… It's just delectable….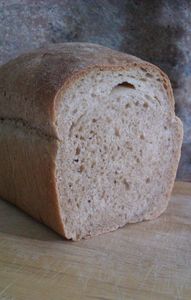 I always made this bread following the original recipe, but this time to change I replaced oil by sesame puree (tahini) and add seeds (sunflower/poppy seeds/sesame/linen…), this gives to the bread a stronger flavour/taste.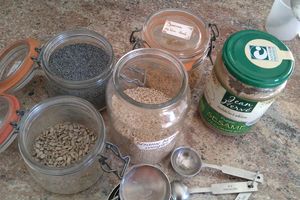 I'm sure we can also change a part of flour for another one (rye flour/spelt flour/…), add some different dried fruits, nuts or spices….
You will find the recipe for this bread on the blogs of Michele and Teresa. And of course in Dorie's book "Baking with Julia".
Forgive me my English is not perfect I will try to improve over the posts. Thanks