This week for Tuesdays with Dorie, the selected recipe was buttermilk crumb muffins, hosted by Alisa who celebrating her birthday today: Happy birthday!!!!!!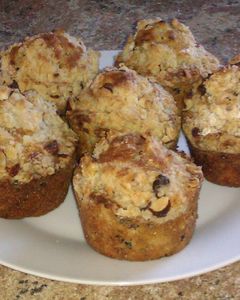 I love muffins, it's a good treat with a cup of tea, a snack that you can bring everywhere. There are lots of different recipes with different flavours, textures, you can add what you want, what you like…
This recipe makes very tasty muffins!!!! Soft with a touch of crisp on top!!!!! I made half of the recipe and just did change few things: used butter, less sugar (1/2cup+2Tbs) and less baking powder (1/2 tsp).
Also, I made it with some chocolate chips inside the muffins, vanilla instead nutmeg, and some hazelnuts and rolled oats in the topping. So yummy!!! The next time (very soon!!) I will make them with apples, allspices and walnuts on top….Doesn't seem promising??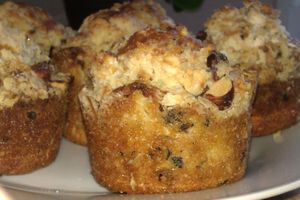 You will find the recipe on the blog of Alisa. And of course in Dorie's book "Baking with Julia". To see what the other members thought of these muffins, visit the Tuesdays with Dorie website.