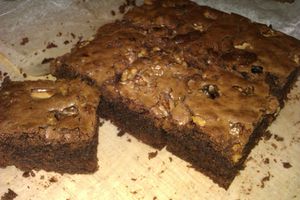 Best Ever Brownies!!! Just the name makes you want to rush into the kitchen and start preparing these fabulous decadent chocolate cakes!!!!!
As you have understand this week the selected recipe was THE best ever brownies, and of course they are the best!!!! I made lot of different brownies, some goods or very goods and some to forget immediately…. But those ones are really amazing!!!!
The method to make is different, and a bit confusing for brownies but I followed exactly, I baked a little longer than the preconised time (38min.) and at the first sight I was confused a second time, I wasn't sure of my result, but when you start to cut the brownies you are just happy to be disciplined and having trusted to Julia Child!!!!

They are the perfect combination of fudgy and cakey, just right, the perfect balance, very chocolate, served with a scoop of vanilla ice cream….
It's definitively a keeper!!!!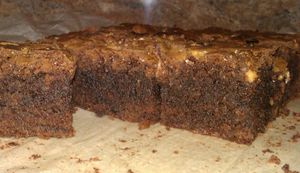 Just two last words: TRY THEM!!!!!
You will find the recipe on the blog of Monica. And of course in Dorie's book "Baking with Julia". To see what the other members thought of these brownies, visit the Tuesdays wth Dorie website.
And Happy Thanksgiving for all Americans, lots of joy, friendship and love.