I travelled few months in New-Zealand, while I visited a wonderful country, met generous people, I discovered a simple and tasty cooking, inspired by various world cooking!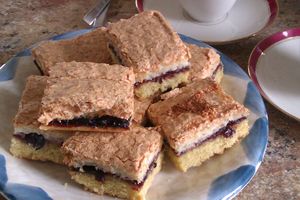 This recipe comes from my journey, and is an old fashioned New Zealand favorite.
It's made with a layer of biscuit topped with raspberry jam, and coconut meringue, then baked in the oven.
Of course you can substitute raspberry jam by any of your favorite jam or marmalade. The next time I want to try with lime curd, with the coconut I think it must be nice and really different.... just let you imagination work....
Louise Cake
About 24 pieces
- 100g butter
- 1/4cup caster sugar
- 3 eggs, separated
- 1 tsp vanilla essence
- 2 cups flour
- 2 Tsp milk
- 1/2 cup raspberry jam
- 3/4 cup caster sugar
- 3/4 cup desiccated coconut
Preheat the oven to 180°C (350°F)
Combine butter + sugar + egg yolks + vanilla, until well mixed.
Add flour and milk and mix to combine.
Spead the mixture into a 20x30cm slice pan.
Spread with the raspberry jam.
Beat the egg whites until soft peaks form. Slowly add sugar while continuing to beat until thick.
Fold in the coconut. Spread over the slice.
Bake for 25-30 minutes, until the top is lightly firm and golden (don't over bake, otherwise it will be dry and not moist!!)
Cool and slice into squares. Store in an airtight container.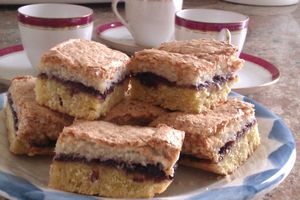 The cake is moist and soft due to the filling and the topping, and a bit crumbly to the base.
Not too sweet, not too rich with a light taste of coconut, just a perfect tasty treat for morning or afternoon tea!!