This week TWD recipe was the Gingerbread Baby Cakes.
I was very interested by the recipe, I love spices, and I use them regularly in pastry but this time I have to confess, I don't really like so much the result!!! The taste is too strong, almost knocking out, and too aggressive for me. However, the texture was good, the cakes were moist and soft.
To bake, the recipe was pretty easy, I added some candied orange peels and sprinkled the top with some sliced almonds. I also reduced the quantities and made four cakes in muffin tins, so 25 minutes of baking times.
Probably I will try again, and bring some changes to make this recipe for my taste, therefore don't worry about my advice, if you enjoy punchy cakes those ones are for you!!!!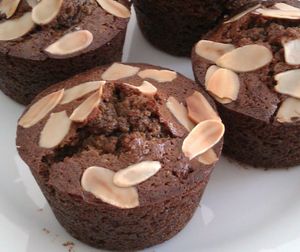 You will find the recipe on the blog of Karen, Karen's Kitchen Stories. And of course in Dorie's book "Baking with Julia" p247/248. To see what the other members thought of the Gingerbread Baby Cakes, visit the BWJ website.