Every year when arrive Christmas, I love to prepare different treats to offer to my friends and family, I really like rather than buying industrial ones, it funny to make, pleasant to offer and so much better !!! Some are really special and traditional for this time.
For me the first one are the Truffles!!! And this recipe from Martha Stewart is very nice, so chocolatey, really The Best and aptly named: Perfect Chocolate Truffles! I made mine without addition but you can add differents flavours as cinnamon, coffee, alcool,....whatever you like.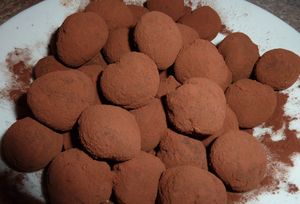 You can find the recipe of Perfect Chocolate Truffles on Martha Stewart website.
-------------------------------------------------------------------------------------
The second recipe are very simple and so impressive to offer: the Florentines.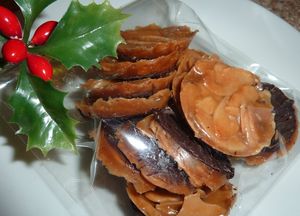 Once again I made mine nature without addition, but for a fancy treat you can add a mix of candied fruits (orange, lemon, cherry, ...)
Florentines
About 30/35
- 100g cream
- 95g sugar
- 30g honey
- 60 g sliced almonds
- 125g mixed candied fruits
- 150g couverture chocolate
Bring to a boil cream, sugar and honey
Cook to 118°C, then add the sliced almonds and the candied fruits.
Pour into chosen pans (I used muffin tins) a small quantities (to have very thin result) and colore in a preheat 200°C oven for 5min. or until it's nicely golden brown.
Let cool and demolded.
Melt the chocolate and spread or dip the bottom of each florentine with it. Let cool until the chocolate is dry.
You can store in a airtight container in the fridge.
-----------------------------------------------------------------------------------
And my last one recipe is a very nice recipe, new for me this year: the black nougat! Normally I make the classic "white" nougat but recently I discovered it existed a black one! It looked so lovely, so I decided I tried to do it by myself!!!! and I don't regret, what discovery!!!! Definitively a keeper!!! You don't need a lot of ingredients but as very often you need very good quality ingredients: honey and almonds, and if you like you can add christmas spices, or just cinnamon, or others spices....or nothing.
Black Nougat.
About 40 medium
- 250 honey
- 250 toasted almonds
- 1/4 tsp spices (optional)
- edible rice paper, to line tin
Line the base and sides of a tin with edible rice paper.
On a medium heat bring honey to a boil, add almonds and spices if you use and continue to cook, to stir regularly, until it changes color, you can check by cutting an almond in half if the inside is pale golden, it's cooked!!!
Pour into the preparated tin, cover with rice paper, cool then cut into squares.
You can store in a airtight container in the fridge.
I hope you'll like these Christmas treats and you'll enjoy making them.