This week, the Tuesdays with Dorie' group chose the croissants recipe. Myth and history of croissants can impress, between fear and gourmandizing, the realization of these pastries just requires a little patience and attention to detail, but the result is so high in our work!!
It wasn't my first "croissants experience", as a good French, I made (sometimes, to be honest not very often!!) some for breakfast or as a meal for lunch or dinner.
You can make as you like, or with what you willing in your fridge / pantry. You just have to bake croissants normally, let cool completely, cut in half and finally garnish them. This time, I have filled them with ham and grated cheese, and served with a lettuce. Just delightful!!!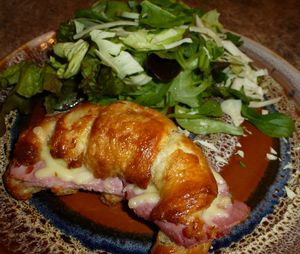 The Julia Child' recipe is really good, though a little too buttery for me, so I reduced the butter and used just 2/3 of the original amount (360g instead 540g), and the result was lovely. Not too fat, nicely laminated, crispy outside and soft inside.
The tasting of these wonders was up to my expectations, ready to repeat the experience, certainly in the very near future!, and it will also give me the opportunity to improve my dexterity....
Once again I was delighted to participate in this group, it gave me the opportunity to re-make croissants and given the desire to do more often, why deprive yourself of this wonderful homemade pastries???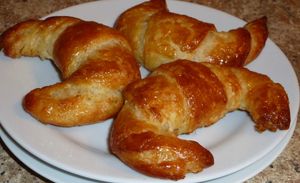 You will find the recipe on the blog of Amanda: Girl+Food=Love. And of course in Dorie's book "Baking with Julia" p.185/186. To see what the other members thought of the Croissants, visit the BWJ website.