Making good bread, give you a great satisfaction, and this week I'm VERY satisfied!!!!! and quite proud to have made such a good bread!
This rustic potato bread is wonderful!!!! Easy to make, quick and so delicious!!!!!! A lovely crust with a soft crumb, a good rustic flavour, a true taste of bread ….. Certainly the best I have ever made!!!!! And now my favorite!!!!!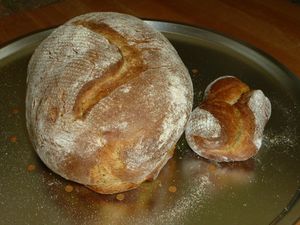 I made this recipe two times: the first time I made individual breads, following exactly the recipe, and the second time I made one large loaf with a mix of seeds (sunflower, linen, sesame, and poppy seeds). The two versions were very tasty. Seeds, nuts or dried fruits can be added to give something more delightful, more "special", but plain this bread is perfect.
I could speak in glowing terms for hours but nothing beats practice.... so now, no reason to not make this great recipe. Good baking!!!!
You will find the recipe on the blog of Dawn: Simply Sweet. And of course in Dorie's book "Baking with Julia" p.138. To see what the other members thought of the Rustic Potato Loaves visit the BWJ website.