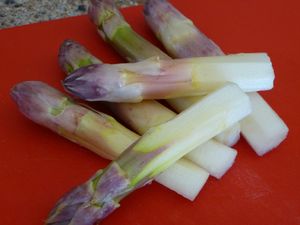 When I discovered the recipe, I was rather puzzled: Savory Brioche Pockets. A brioche dough with a savory filling? I had never, previously, used brioche dough other than for sweet pastries.... So between my impatience to discover this recipe and a few questions about the result I started with pleasure in this new TWD challenge.
As very often, I made some changes to the original recipe, in fact only one: I reduced the amount of potato by carrots and, therefore made a carrot/potato mash. For the rest, everything is the same, you just have to follow....
And the result is really fantastic, we can feel the taste of the brioche, but not as usual when I use it as pastry, the texture is also very different, perhaps due to the fact that the dough is spread like a pie.... For the filling, the mixture is tasty, quite creamy, no ingredients interfered with other, all fits together perfectly! It's a lovely combination!!!
The recipe is a real discovery, a treasure!! And once again, you can fill as desired, with different ingredients, seasonal vegetables, … I think my next try will be with fresh green peas, a part with mashed potato, the remaining with pieces of carrot,.... for a lovely spring air!!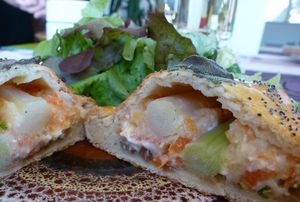 You will find the recipe on the blog of Carrie : Loaves and Stitches. And of course in Dorie's book "Baking with Julia"p.421-422. To see what the other members thought of the Savory Brioche Pockets visit the BWJ website.