Regularly when the weather is cold and/or rainy, I like a good soup. It's warm, comforting and healthy. Generally, I served it with bread or roll, I change depending on the kind of soup I cook. So the recipe this week: Onion Bialys, was perfect to serve with my meal.
The recipe was easy to make, according to my taste, I substitute mince yellow onion in the sponge by a seed mix, and used for the topping caramelized onion instead onion/poppy seeds topping. I also halved the recipe and obtained 6 bialys, I made 3 with onion topping and 3 without, just plain bialys!
Sponge rising Dough rising
However during cooking, I had a slight worry, my bialys mimics volcanoes erupting! No major damage, but the result was a little less beautiful than the picture! This hasn't affected the taste, as recommended, I toasted them, and it was delicious, soft (more than bagels which are chewier) and the onion topping gives a very nice flavor.
It was a perfect accompaniment with a lovely Manhattan Chowder (for the recipe, it's here, I adapted a bit adding veggies and substituting clams by seafood mix) …...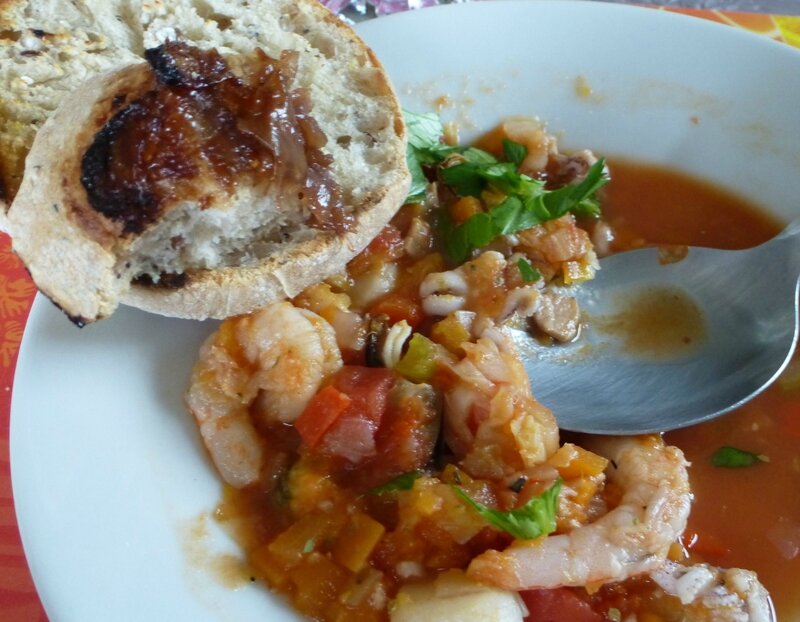 My remaining plain bialys were absolutely delicious too, I toasted them, spread a bit of butter….wonderful!!!!
I'll definitely make them again!!!! I am also tempted to give a try for different kind of sandwiches… Anyway: a keeper!!!
You will find the recipe in Dorie's book "Baking with Julia" p.90/92. To see what the other members thought of the Onion Bialys visit the BWJ website.