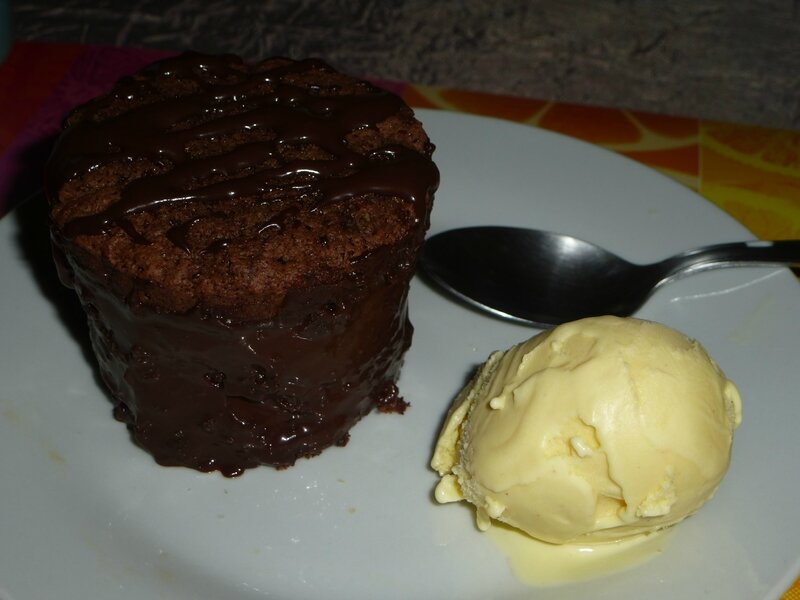 One word: WONDERFUL!!!!
Certainly, the best chocolate dessert since for a while, and perhaps my favorite of Dorie's book "Baking with Julia".
The recipe wasn't very difficult, however it takes a little time. It's divided into several parts, with resting time. For my part, everything went without trouble, and even quite easily. I made individual cakes, I reduced the recipe (used 2 eggs) and obtained 5 muffin size cakes.
The cakes were incredibly moist, soft, chocolaty and not at all heavy. I served them with a scoop of cinnamon ice-cream (homemade, recipe below). All the flavors paired beautifully, it was an amazing dessert, certainly a keeper….
You will find the recipe in Dorie's book "Baking with Julia" p.282/283. To see what the other members thought of the Mocha Brownie Cake visit the BWJ website.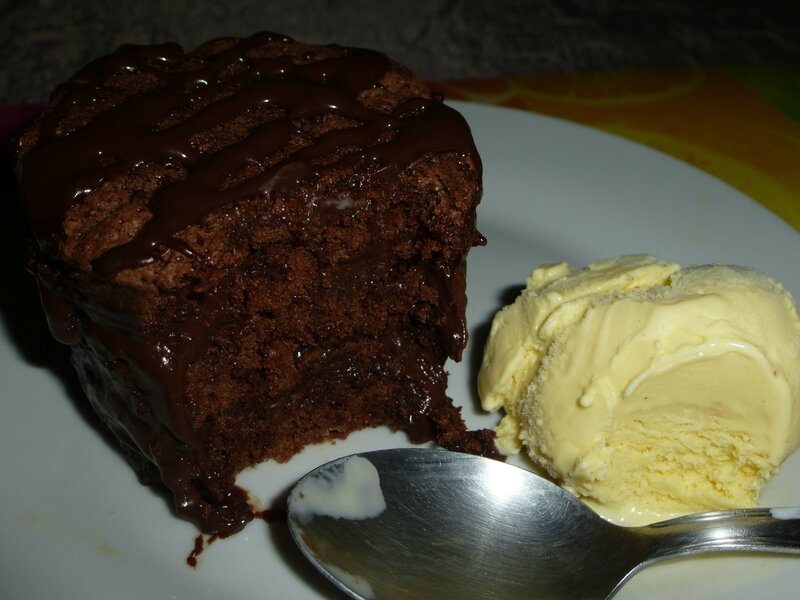 Cinnamon Ice-cream.
About 1 quart (1L)
1 cup whole milk
¾ cup granulated sugar
Pinch of salt
Ten 3-inch cinnamon sticks, broken up
2 cups heavy cream, divided
5 egg yolks
1. Warm the milk, sugar, salt, cinnamon sticks and 1 cup of the heavy cream in a medium saucepan. Once warm, cover, remove from the heat, and let steep at room temperature for 1 hour.
2. Rewarm the cinnamon-infused milk mixture. Remove the cinnamon sticks with a slotted spoon and discard them. Pour the remaining 1 cup heavy cream into a large bowl and set a mesh strainer on top.
3. In a separate medium bowl, whisk together the egg yolks. Slowly pour the warm mixture into the egg yolks, whisking constantly, then scrape the warmed egg yolks back into the saucepan.
4. Stir the mixture constantly over medium heat with a heatproof spatula, scraping the bottom as you stir, until the mixture thickens and coats the spatula (should reach 170 degrees F on an instant-read thermometer). Pour the custard through the strainer and into the cream. Stir until cool over an ice bath.
5. Chill the mixture thoroughly in the refrigerator, preferably overnight, then freeze it in your ice cream maker according to the manufacturer's directions.
(Recipe adapted from The Perfect Scoop by David Lebovitz)