Crème Brûlée has mysterious origin, French, English and Spanish argue about it. Anyway it's a staple in French cooking. The ingredients found in the recipes don't vary too much: egg yolks, sugar, cream, and vanilla. Sometimes it can be added a small amount of milk to slightly lighten the recipe. I used it and it gives a very nice result: less rich and mostly less heavy! I like to have something soft/light, which makes you want to take more, rather than the inverse.
So, I almost follow this recipe, instead of 2 cups cream I used 12/3 cups and 1/3 cup milk. All the directions were quite easy, just be careful with the cooking time, too much and your custard turn out overcooked and for this kind of recipe it's not great, a bite horrible. It doesn't give the magic and the reality of this delicious dessert.
I served the crème brûlée with some almond biscuits, and trust me it was AMAZING. The best crème brûlée I had ever made. Creamy with a lovely vanilla flavour and a nice sugary top. One word: delightful!!!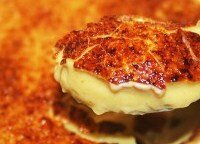 A great reintroduction of this staple, which it can be flavored as you like: coffee, chocolate, orange, coconut, maple… so, to make and make again….
Have a look to Baked Sunday morning, to see what the other members thought about the Classic Crème Brûlée.