I made a lot of chocolate cakes, and I have one recipe I'd like to my favorite that I made when I want a good chocolate cake than everybody can appreciate, even the non big chocolate fan. In short terms: a good hit!
When I made a new one I hope everytime to do something better, different or at least as good, and this time my wishes were fulfilled. The result, a cake: different of course, better probably, so delectable and savory!!!!
The cake is chewy, a little dense but not heavy, not too sweet, and with a good deep chocolate taste. Nothing is too much in this recipe, it's the good amount for each ingredient.
I served it alone, neither cream nor ice-cream, but the next time (there will be a next time of course!!!) I'll probably serve with vanilla ice-cream or maybe "crème anglaise".... this will certainly give a bit more fantasy and delight to this wonderful dessert!!!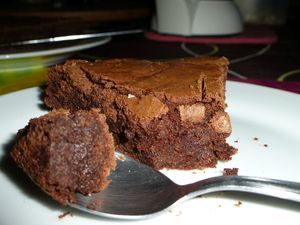 Just a small piece of heaven in a crazy world.....
You will find the recipe on the blog of Cathy: A Frederick Food Garden. And of course in Dorie's book "Baking with Julia" p.253. To see what the other members thought of the Boca Negra, visit the BWJ website.